Fish Enchantment is proud to have released New Mexico's first E-Magazine dedicated to fishing in 2013. Since then we've released over a dozen content packed issues!
Tails of Enchantment is an entertaining, educational, and free E-Magazine to subscribe to!
The magazine has it's own page here on FE,
SUBSCRIBE NOW
so you never miss an Issue of Tails of Enchantment. You can subscribe via RSS feed, or by following the
SUBSCRIBE TODAY
banner on the left sidebar of this page. Members of Issuu.com can subscribe through
Issuu
as well.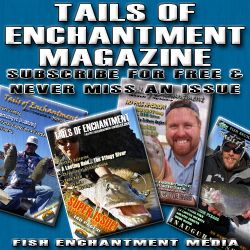 Subscribers can view the magazines on Fish Enchantment or at
issuu.com/fishenchantment
. Mobile users can view direct links from Issuu (posted below each embedded Issue) but will not be able to see the magazine embedded on FE without the proper Flash Player. However, the magazine is 100% mobile friendly so enjoy and share it wherever you go!
See the Tails of Enchantment Stack of past issues here!
http://issuu.com/fishenchantment/sta...aa906e707139d2
Tails of Enchantment brings some of New Mexico's best known fishing personalities and writers together and features great articles from out of state editors also. Subscribers should expect fresh content from a variety of contributors and the magazine to be published quarterly. The content in each issue is according to the season that issue is released.

Featured Contributors:
This list of Contributors is sure to grow but here's who you can expect to read articles from. Thanks to all our Contributors, without them this magazine wouldn't be possible! Be sure to support them and their businesses/endeavors as way to say thank you!
Kevin Terry
Nick Streit
Van Beacham
Bill Dunn
Kris Johnson
Rita Adams
Ti Piper
Frank Vilorio
Toner Mitchell
Bob Widgren
Vince Deadmond
Shawn Jones
Gregg Flores
Andrew Ragas
Mario Flores
Steve Ryan
Joseph Banik
TJ Trout
Mario Flores
David Goodrich
Matt Pelletier
Department Contributors:
Here are the Editors who are Department Contributors, not all Departments will be featured in each issue. Some Departments are interactive, we want to give our readers every chance possible to be a part of this publication so please submit regularly to the Interactive Departments.
Juan Ramirez (Montana Fly Company design team) & David Goodrich (Manager-Tumbleweed Fly & Tackle)- Your Fly's Down
Will Wells (
Roxors
)- Hooked Comic
Felipe (
Manuel
) Ortega and Sean Gifford (
Giff
)- Yak Hack
Matt Pelletier (
NMfishn
)- Captured, Anglers Art, News & Events, Aquatic Talk, Captured, Product Showcase, Message from the Editor
What each Department will be about:

Yak Hack-
Getting the most out of the newest way to target fish, Kayak fishing!


Fish Science
- Biology, Ichthyology put into terms us as anglers are familiar with.
Your Fly's Down
-MFC Fly Designer Juan Ramirez shares Life Cycles patterns of flies you should be fishing. All linked to videos for you to watch the step by step process of tying these deadly patterns.

Hooked Comic
-Fishy comics by local artist Will Wells

Giving Back
- Conservation and restoration efforts around the state that you can get involved with and help give back to our resource.

Outdoor Events
- Fishing and outdoors related news and events in New Mexico.
Aquatic Talk
- Audio Interviews with a variety of personalities within the fishing industry.

Captured
-
Interactive
- Subscribers can submit photos to be featured in this "photo gallery" style of Department.
SUBMIT HERE
.
Product Showcase
- Read about great products we've recently used, tested, or have always trusted here.
Anglers Art
- Local artists featuring fishing related pieces for sale directly from the artist.
Editors Message
- A note from the Editor in Chief.
Index of Advertisers
- Index of advertisements in magazine
-------------------------------------------------------------------------------------------------
Magazine Production:

Publisher:
Fish Enchantment Media


Editors:

Matt Pelletier, Editor in Chief
Manuel Ortega
Graphics & Design:

Matt Pelletier


Advertising:

Leah Pelletier, Advertising Director

Tails of Enchantment is published 4 times a year by Fish Enchantment Media LLC Copywrite © Tails of Enchantment. All rights reserved. The usage of articles, photographs, and any reproduction of this publication is strictly prohibited.